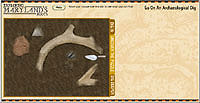 Go on an Archaeological Dig
http://mdroots.thinkport.org/interactives/archdig/

Listen to help audio
When Did the Yaocomaco People Live?
Hundreds, even thousands, of years before the English settlers came to the Chesapeake Bay, Native Americans lived in this area. Archaeologists have a special name for the time that led up to the first contact between the Woodland Indians and the European colonists. It is called the Late Woodland period. It lasted from about 900 to 1650 AD. During this time, the Yaocomaco began farming, and corn became a major source of food. They were able to build more permanent villages and improve their pottery and decorative arts skills.
Many items from everyday Yaocomaco life, such as baskets and clothing, would not have survived very long in the ground. But objects like pottery, stone tools, beads, and bones do last. You can learn a lot by studying these artifacts. But first you have to find them.
How the Activity Works
The dig site has three layers filled with artifacts. It's best if you start with the Dig In layer. Archaeologists use a special tool called a trowel to dig for artifacts. Move your trowel around the dig site to uncover the 8 hidden objects. Then click on them to learn more.
Next, you can Dig Deeper to find the 9 other things hidden in the dirt. Don't forget to click them to examine them closer!
Finally, try to piece together the 18 objects that you find in the Uncover the Puzzle layer to make a complete artifact.