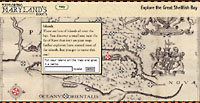 Explore the Great Shellfish Bay
http://mdroots.thinkport.org/interactives/greatshellfishbay/

Listen to help audio
Welcome explorer!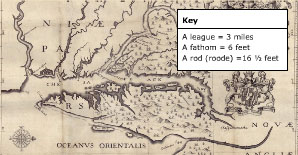 Jerome Hawley and John Lewger], Nova Terrae-Mariae tabula, 1635, Huntingfield Collection, MSA SC 1399-1-526. Map courtesy of the Maryland State Archives.

You are one of the first European visitors to the New World, leading a special expedition to Maryland's Chesapeake Bay. Your small sailing ship, or pinnace, has just reached the mouth of the bay, and so your journey begins!

But what will you find? The only information you have is a map and some descriptions from other explorers. You've read about this large body of water filled with fish and surrounded by huge trees. You've even heard stories about giant-like natives with very strange customs. Now, you've come to find out for yourself why the Algonquian Indians named this body of water Chesepiooc or "great shellfish bay."

How to Explore the Great Shellfish Bay



Wildlife of the Chesapeake Bay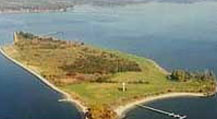 St. Clement's Island

As you move your mouse around the interactive map, certain spots are highlighted. Be sure to read the short highlight text which tells the story of your journey from the point of view of one of the first explorers of the Chesapeake Bay. Then click on highlighted spots to learn more.

When you click on a spot, a popup window will appear. The popups have two different kinds of information: quotations from 17th-century explorers, and geology facts about the Bay and its changes over the years. There are 15 highlighted spots on the map. Be sure to explore them all!


---
Maps for this activity courtesy of Maryland State Archives. Additional maps and information about mapping the Chesapeake can be found at the Maryland State Archives Museum Without Walls (http://www.mdarchives.state.md.us/msa/educ/exhibits/html/mpt.html) or in The Maryland State Archives Atlas of Historical Maps of Maryland 1608-1908 by Edward C. Papenfuse and Joseph M. Coale III. Baltimore: Johns Hopkins University Press, 2003.